Festive Cocktails- Alcoholic and Non Alcoholic
While some people might think alcohol has to be a part of holiday cheer, it doesn't have to be. Festive holiday drinks like eggnog and mulled cider can be nonalcoholic or alcoholic. The idea is to welcome the season with the tastes of holiday cheer, like apple cider, cranberry juice, eggnog and hot chocolate.
"I always like to think green or red or snowy white," says Lisa Howard Tobin of Lititz, who loves to entertain with friends and plan parties for special events. Tobin suggests adding festive touches like red cherries, raspberries or pomegranate seeds frozen in ice cubes to a green drink. Or you can freeze limes to put into a red drink. Blood oranges are another way to add bright red to a drink.
"During the holidays I usually mix up some simple syrup and some sweet and sour mix, so I can keep it in the fridge in nice bottles when needed," says Tobin.
Here are a few ideas for holiday cheer, starting with the nonalcoholic beverages:
Egg Nog
• 2 cups milk
• 5 whole cloves
• 1/2 teaspoon ground cinnamon
• 1/4 cup sweetened, condensed milk
• 4 egg yolks
• 1/2 cup granulated sugar
• 1 cup heavy whipping cream
• 1 teaspoon ground nutmeg, plus more for garnish
• 1 teaspoon vanilla extract
Combine milk, cloves, cinnamon and condensed milk over low heat in a deep sauce pan until the mixture is heated through. Slowly increase the heat to medium and bring the mixture to a low boil, not a rolling boil.
In a medium bowl, combine the eggs and sugar. Beat eggs using a stand mixer, electric mixer or by hand until lightened in color and fluffy. Slowly temper the eggs by adding about 1 tablespoon at a time of the hot milk mixture into the egg and sugar mixture.
Once enough of the milk mixture is in the egg mixture, pour it all back into the sauce pan. Heat over medium heat for 3-5 minutes, stirring frequently, until thickened. Add the heavy whipping cream, nutmeg and vanilla extract to the mixture and heat through. Do not bring to a boil.
Strain the mixture using a fine mesh strainer to catch the spices. Place in an airtight container in the refrigerator and let cool for at least one hour, preferably longer. Serve cold. Garnish with additional nutmeg if desired.
Cranberry Apple Sparkler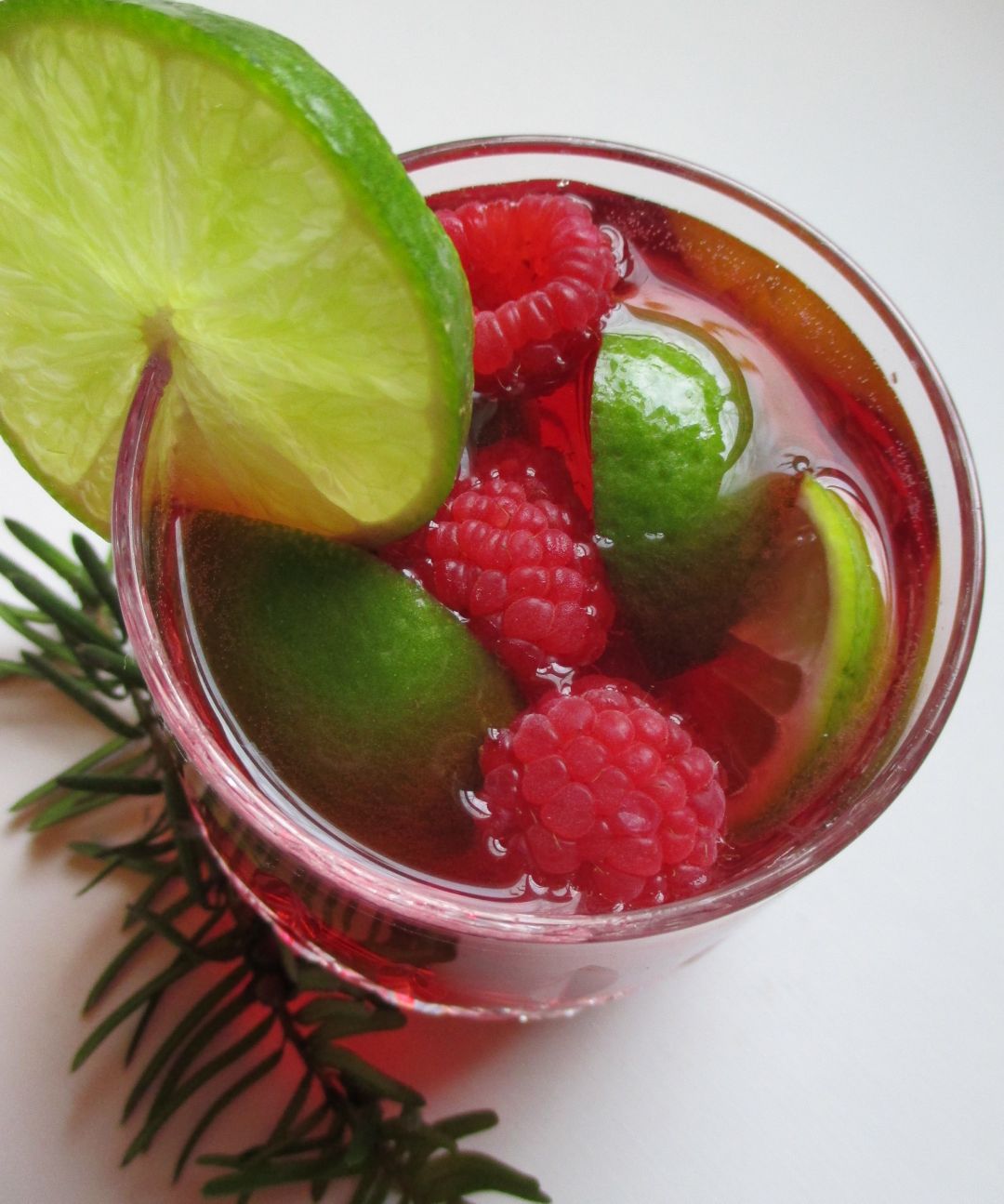 • 1 cup cranberry juice cocktail
• 2 cups ice
• 4 pints sparkling cider
• 1 lime, cut into wedges
In a food processor or blender combine ice, cider and cranberry juice and process for 2-3 minutes until the mixture becomes slushy. Use an ice cream scoop to portion into glasses. Garnish with lime wedges and berries.
Apple Cider Punch
• 4 quarts apple cider
• 1 cup packed brown sugar
• 6 ounces lemonade, frozen concentrate
• 6 ounces orange juice, frozen concentrate
• 6 whole cloves
• 6 allspice
• 1 teaspoon ground nutmeg
• 3 cinnamon sticks
Place the spices in a piece of fine cheesecloth and tie. Or use tea infuser. Combine the remaining ingredients and heat the mixture, stirring occasionally. Take out spice packet. Serve warm with cinnamon stick.
Caramel Apple
• 1 cup apple cider
• 1 tablespoon caramel syrup
• Whipped cream
• Sprinkle of cinnamon
These can be made easily in the microwave. Using a microwave-safe mug, warm up cider and caramel for 30 seconds. Check and warm more if needed. Top with whipped cream and a dash of cinnamon.
Real Hot Chocolate
• 2 tablespoons unsweetened cocoa powder
• 1 to 2 tablespoons sugar (depending on how sweet you like it)
• Pinch of salt
• 1 cup milk
• 1/4 teaspoon vanilla extract
Whisk the cocoa, sugar, salt, and about 2 tablespoons milk in a small saucepan over medium-low heat until cocoa and sugar are dissolved. Whisk in the rest of the milk and heat it over medium heat, whisking occasionally, until it is hot. Stir in the vanilla and serve.
If you're having a quiet night in with family or a larger gathering with friends, holiday celebrations often call for a cocktail – sometimes simply to help you deal with your friends and family! Here are a few easy but delicious cocktails that won't take a lot of time or money. Especially when it is chilly outside
, consider starting with the roasted cider, a seasonal hot toddy that combines a classic mulled cider with the toasty flavor of hazelnuts.
For a fresh take on tradition, try the ginger fashioned, a snappy rendition of the old fashioned. And if you're feeling really festive, the ruby spice bubbles offer a refresh way to enjoy sparkling wine.
ROASTED CIDER
Start to finish: 10 minutes
Serves 1
6 ounces cider
1½ ounces rye whiskey
1 ounce hazelnut liqueur (such as Frangelico)
Freshly grated nutmeg
Cinnamon stick, to garnish
In a small saucepan over medium heat or in a mug in the microwave, heat the cider until just steaming. Stir in the whiskey and hazelnut liqueur, then top with grated nutmeg. Serve with a cinnamon stick for stirring.
 A ginger fashioned cocktail is a zippy rendition of the reliable old fashioned. (AP Photo/Matthew Mead)
GINGER FASHIONED
Start to finish: 5 minutes
Serves 1
1-inch slice fresh ginger
1 sugar cube
2-inch strip orange peel
2 dashes maple bitters
2 ounces bourbon
Ice
In an old fashioned glass, muddle the ginger, sugar, orange peel and bitters until the sugar is dissolved. Add the bourbon and stir. Add an ice cube and serve.
RUBY SPICE BUBBLES
Start to finish: 1 hour (10 minutes active)
Serves 4
¼ cup sugar
½ teaspoon cinnamon
Pinch ground cloves
¼ teaspoon ground dry ginger
3 tablespoons water
4 ounces unsweetened cranberry juice, chilled
750-milliliter bottle sparkling white wine, chilled
Brandied or candied cherries
In a microwave-safe bowl or glass, combine the sugar, cinnamon, cloves, ginger and water. Stir well, then microwave on high for 1 to 2 minutes, or until the sugar is completely dissolved. Set aside to cool completely.
In a cocktail shaker, combine the cooled spice syrup with the cranberry juice. Shake to combine, then divide between 4 cocktail flutes or coupe glasses. Top each with sparkling wine and add 1 cherry to each.
If you are in the market for a new house and would like information on homes for sale, or are first time home buyer not working with a Realtor and would like to schedule a consultation with a qualified Oakland County and Macomb County Realtor, please complete the Lang Premier Properties contact form to have a real estate agent contact you. 
Lang Premier Properties are Birmingham Realtors specializing in Oakland County Real Estate. Stephanie is an agent with Lang Premier Properties. See what past clients have to say about Stephanie Lang.  Lang Premier Properties looks out for your best interests when you purchase a new custom luxury home. We always recommend working with an experienced luxury real estate agent when buying a new luxury estate.